2012 has been quite a year!! For a start it was the birth of this little piece of the internet.
Sallytangle was created as a little bit of a creative outlet for me, and also for all those people who know me or know of me, and rather nicely notice my nutty get ups, crazy tights and general unnecessary parephenalia. I cannot thank you all enough for sharing this little space with me and for all your kind words.
The world is so big, and so often it's easy to become consumed with the immaterial and the unimportant. A lot of the things that make me smile, are the tiniest moments in time, the kinds that if you blink too soon, you will miss them. Here are just twelve moments from the last twelve months. Believe me it was hard to narrow them down!!!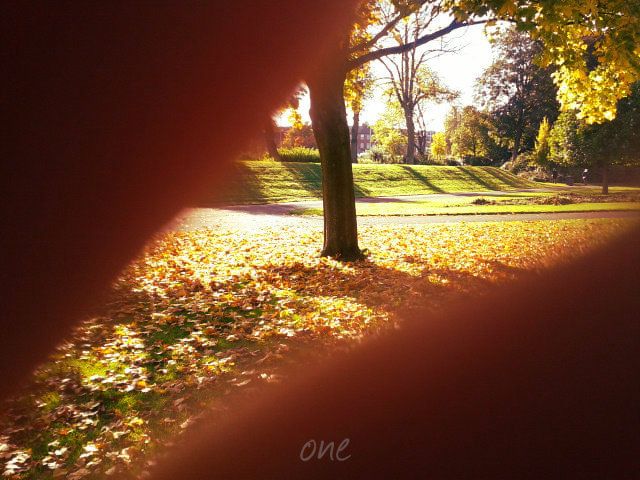 Days that seem to good to be true. This was the day that Autumn officially reared its pretty little head. Although the photo looks warm, it was actually quite chilly. There we were, wrapped up in layers, sat swinging our legs on a bench and eating sandwiches and crisps and watching dogs chase the leaves. The colours, light and just everything about this day made it perfect.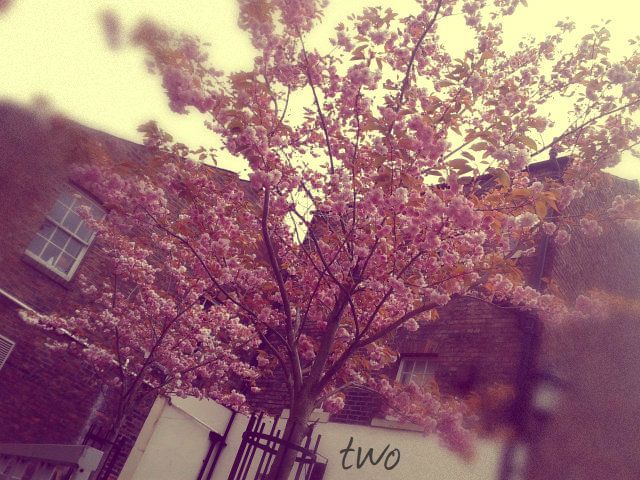 Blossom in spring time. Is there a happier looking tree than one that is adorned with a beautiful soft pink blossom?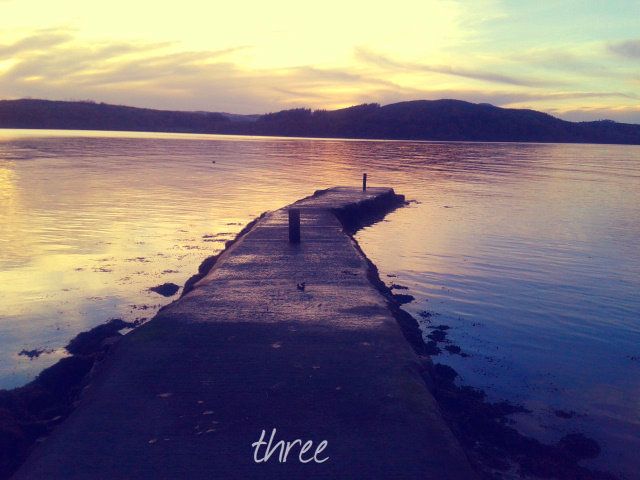 Rockcliffe, Solway Firth, South West Scotland. This is where i am lucky to call home - where my parents live. This photo was taken the last time i was home, as the sun was setting. Standing at the end of this tiny little pier after a little walk along the coast; was the most beautiful little moment. It felt like i could melt into the clouds.
Rain. We get our fair share of the wet stuff in little old blighty. If it stops me getting on my bike, rain and i often fall out. It's so easy to forget quite how beautiful the rain can be too. I love its smell on spring grass, and the feel of summer rain on my little cheeks. As long as i have an umbrella to hand that is...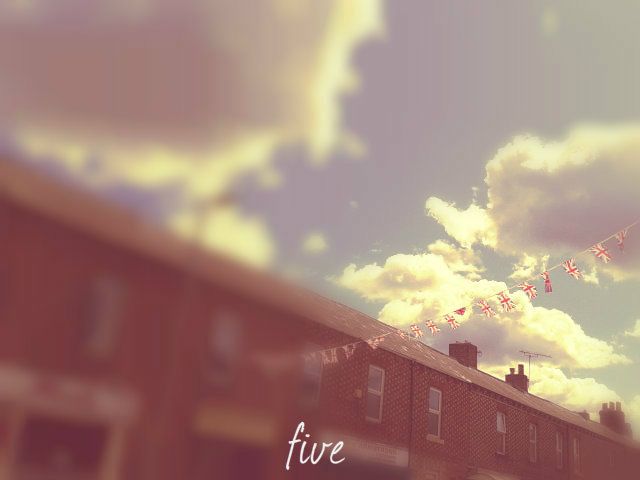 Skies and bunting. This was taken Jubilee weekend. I love this photo because it fills me with happiness. The whole country got into the jubilee spirit, everyone was proud, and no matter how small your village, you can bet there was bunting somewhere! That can never be a bad thing!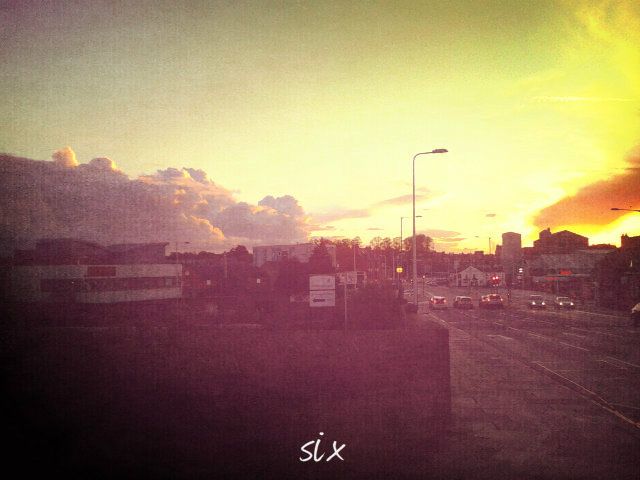 Sunsets. These often feature quite heavily on my little blog. I could look at the sky forever. There is something so magical about riding my little bicycle into a beautiful sunset. Its something i will never tire of.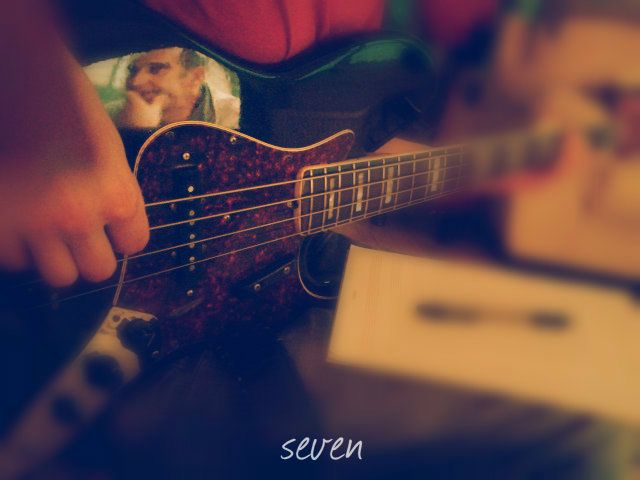 Moments. I love this photo as it was completely accidental! I love the reflection of Kevin Mc Cloud in the Mr's bass guitar. I also loved this moment. I don't get to here him play enough, and yet i could quite happily listen to it forever.
Willow. My little Pashley Penny bike Willow. She is almost a year old and i love her with all my heart. Apart from the fact that she is, let's face it, a very pretty girly looking bike. I also love that i have found an exercise that i genuinely cannot get enough of - and that is one mean feat. I have enjoyed cycling myself through every single season, feeling much better about myself and loving watching all the little changes the months have brought.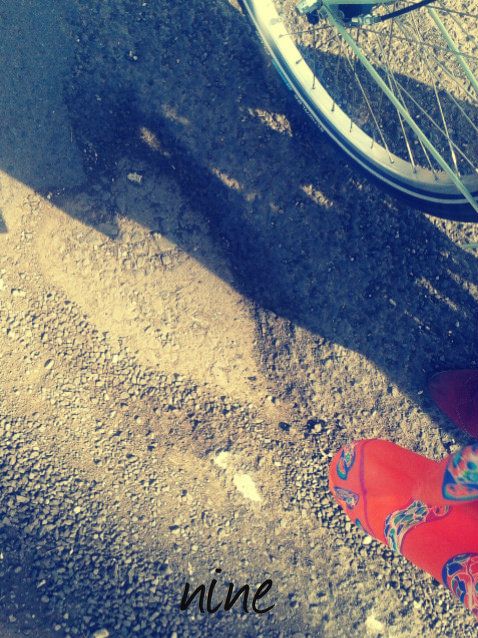 Silly things. When i am out and about cycling i love noticing little tiny things that nobody else has. I love this photo because if you scrunch your peepers up enough, you can just about make out a heart shape in the concrete! Beautiful. And i love the bright flash of my liberty scarf blowing in the wind too.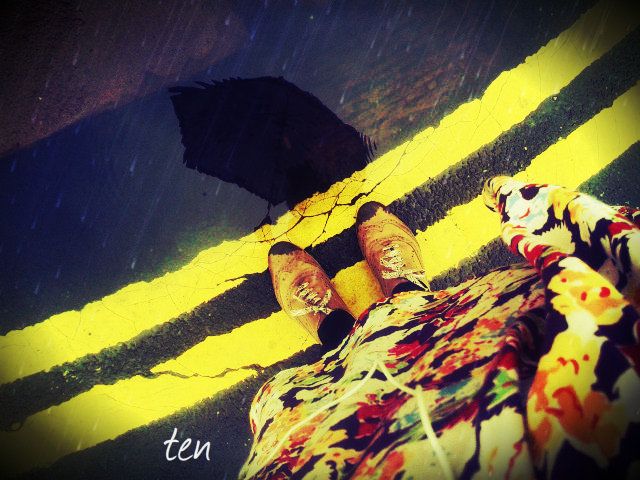 Being in the right time at the right place. This was extremely wet and unpleasant rain, but as i was stood waiting for what seemed like every car in carlisle to pass, i snapped my skirt as i realised it matched the double yellows rather nicely. The reflection was an unintentional bonus! This has to be one of favourite pictures.
Christmas. My all time favourite time of year, easily. I love all it brings and i especially love having someone special to spend it with - someone who doesn't mind indulging in mulled wine almost each evening before bed in the run up to the big day; or watching Love Actually again; or eating more than one mince pie at a time; or letting me light my christmas candle right at the beginning of december; spend a small fortune on wrapping paraphernalia and who doesn't mind if we have a fox wearing a Christmas jumper hanging on our tiny tree.
Twelve
Sharing moments in different ways. Before i started this little space, i didn't think i was much of a photographer, but i learned. And i am looking forward to learning even more this year. I got brave (and a bit silly) and thought it would be quite sweet to capture my perfect Autumn afternoon on film - it really was too beautiful for words. I love the outcome. It is shaky, a bit naffly edited and probably would make most cringe a bit, but to me it is perfect.