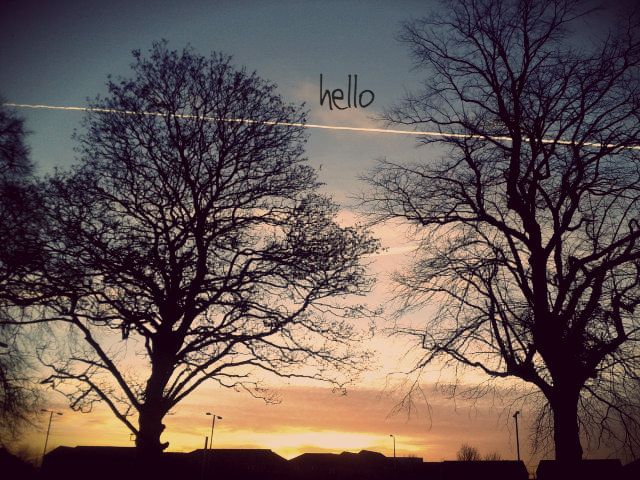 Hello? Yes it's me? Remember me!? I am alive (

just

) and still here. Unfortunately a full time job in retail means Christmas and then sale time after Christmas are probably my busiest times.
The last week or so is a total and complete blur. Today feels like Saturday. And i feel like a fraggle! I am sure i have been saying 'next please' in my sleep and my diet has largely consisted of mulled anything and mince pies…with an extra huge helping of cuddles.
But i am here and although i haven't had my camera out nearly as much as i hoped to…this is what life has looked like over the last ten days or so….
Friday. Our first day off since together since my birthday at the very beginning of december. We stayed in bed until lunchtime (

after my vow to 'sleep until i wake up' whoops!

), went to Pizza Express for lunch, and then spent the rest of the day eating mince pies with Grand Marnier double cream and playing scrabble. Heaven.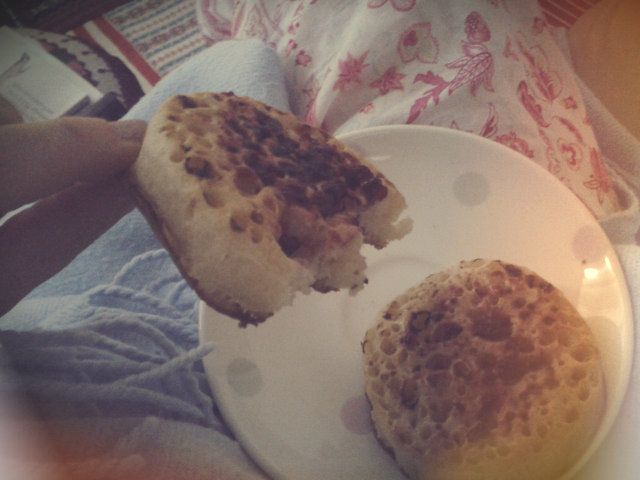 Breakfasts. Crumpets with lots of butter and black cherry jam. I would not like to hazard a guess as to how many packets of crumpets i have eaten throughout the month of December. When the jam was running low i contemplated putting mincemeat on them…is that normal?!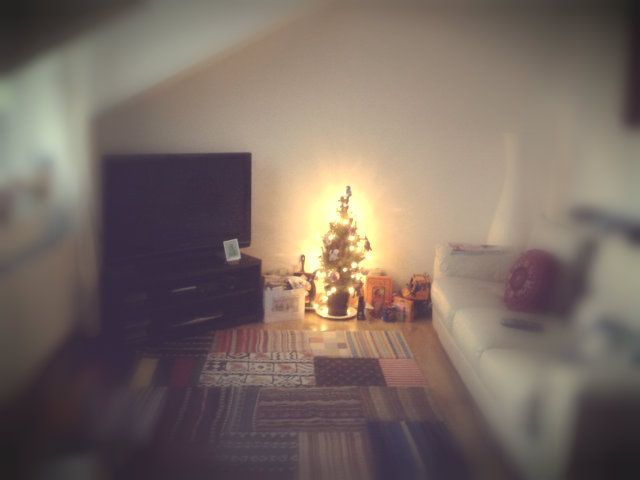 I do not tire of this little tree. There is something so very magical about being allowed to have the tree lights on as you are munching crumpets and watching the sun come up. It's the only thing getting me through my 7.30am work starts this week.
Shopping. Since our sale started on Boxing Day i have wanted to stay as faraway from any kind of shop other than the Marks and Spencer foodhall for my lunch. Today was my first day off. Off i toddled to spend my xmas Topshop giftcards in the sale. Only to fall in love with something full price. Flipping flopping always happens! It now hangs proudly in our spare room walk in wardrobe singing 'wear me wear me.' I have excited hopes to wear it with my orange liberty scarf, liberty watch and bronze glitter pumps.
On a completely un-related note, LOOK how long my hair is now?! I have been wanting it be longer for what seems like…well always. Having not had a haircut since September, i booked one last week. Typical. Getting my hair cut now it seems to suddenly have become the length i wanted!! I must be the only person who goes to the hairdressers and asks them to cut it in a way that makes it look no different from how it started…i digress.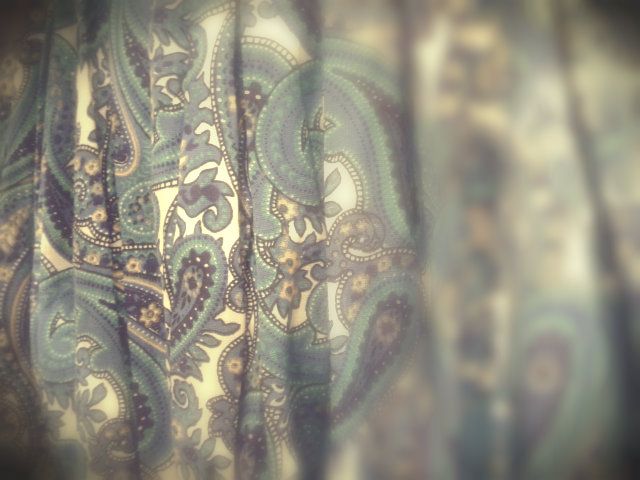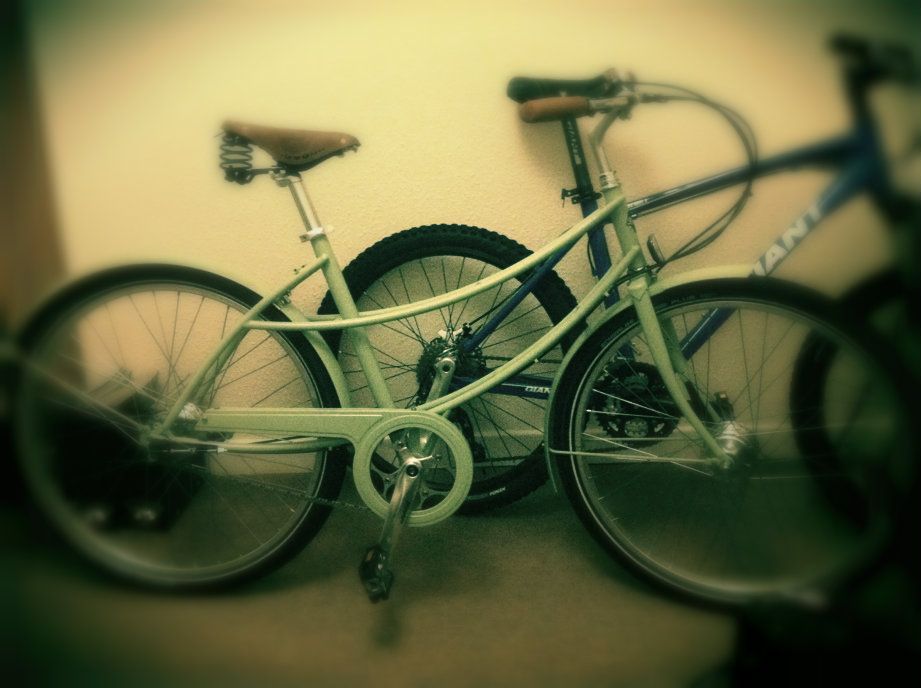 Picking up Willow. Un-content at leaving her all alone in our hallway whilst we went to Manchester for Christmas Day, she spent her days with the compeny of the Mr's bike, in his teaching room. I think they make a lovely couple…i did think when i picked her up today we might find a teeny tiny bike in there too. It was nice to get the pedals turning again this afternoon…even of it was only to trundle to M&S to get supplies for our roast lamb new years day dinner.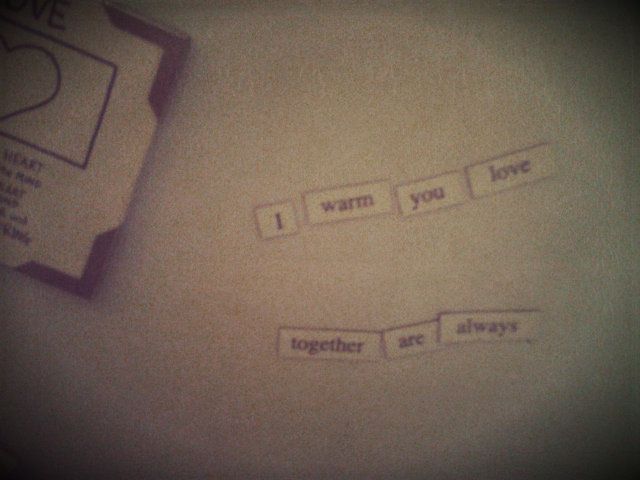 Being silly. My new 'Love Letters' magnets. Thought the Mr would hate them. Not so much. Some sweet messages…some not so much.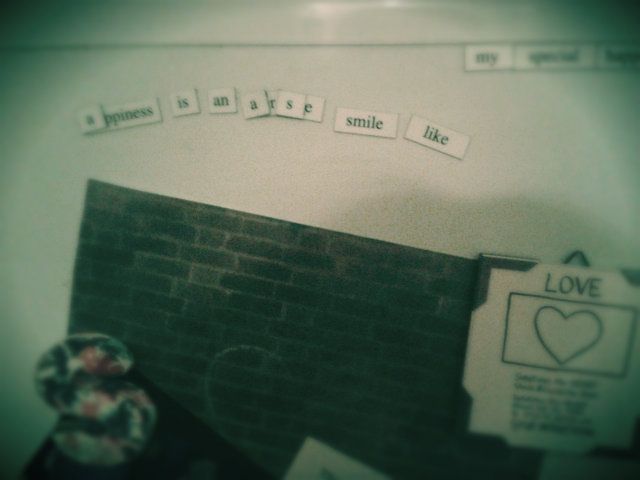 Well all, i would love to say i am off to get ready for a big NYE night out. In reality, i am going to take my coffee (with a cheeky slug of whisky in - why does Christmas make it seem okay to put alcohol in everything?!) and run myself a hot bubbly bath with some new Lush goodies. Then we are staying in, making some mulled wine and mince pies (because soon it wont be acceptable to anymore) and hopefully i am being allowed to watch The Moonrise Kingdom.
I hope you all have a lovely NYE and a very happy new year. If i haven't said it enough already and you are not bored with hearing it….thank you so very much from the bottom of my little heart for reading and for popping by. You are all the loveliest people and i am so pleased i started this little space.
I cannot wait for 2013…..and to get back to some kind of normality!!